Ethiopia's Tigray conflict: Why the rest of the world is worried
Ethiopia
Ethiopia's Tigray conflict.
US Secretary of State Antony Blinken is travelling to Kenya, where he will be discussing the conflict in neighbouring Ethiopia.
US and UK citizens have been told to leave Ethiopia "while commercial flights are readily available", in the words of a British minister.
This alarming advice, with echoes of Kabul in August, was issued as a rebel force from the northern Tigray region looked like it could be making a move on the capital, Addis Ababa.
A year into the civil war, which has left a humanitarian crisis in its wake, the chorus of outside concern is getting louder.
African and US diplomatic pressure is increasing as what happens in Ethiopia has huge implications for the rest of the region and the wider world.
Why does it matter?
The numbers on their own are shocking.
At least 400,000 people are facing famine-like conditions in the north, 80% of essential medication is not available and more than two million people have been forced from their homes.
The federal government has been accused of deliberately preventing aid from reaching Tigray, which it denies.
In addition, there is evidence of unlawful killings, torture and sexual violence committed by both sides.
But there are also strategic interests.
Ethiopia, with a population of 110 million – the second largest on the continent, had been a key, stable Western ally in a volatile region.
There are concerns that the current fighting could trigger wider violence in this multi-ethnic nation that could even lead to it breaking up. If millions of people were to flee a heightened conflict, its neighbours would find it difficult to cope.
Landlocked Ethiopia borders six countries, two of which are already experiencing conflict – South Sudan and Somalia – and one other, Sudan, has just seen a military takeover.
It has troops in the joint African Union-UN mission fighting Islamist militants in Somalia and there are fears they could be withdrawn if they were needed back home.
Before leaving for his Africa tour, Mr Blinken warned that out-and-out conflict would be "disastrous for the Ethiopian people and also for others in the region".
Troops from Eritrea are already fighting in Ethiopia and a prolonged crisis could suck in other neighbours.
But countries further afield have also been reportedly drawn in.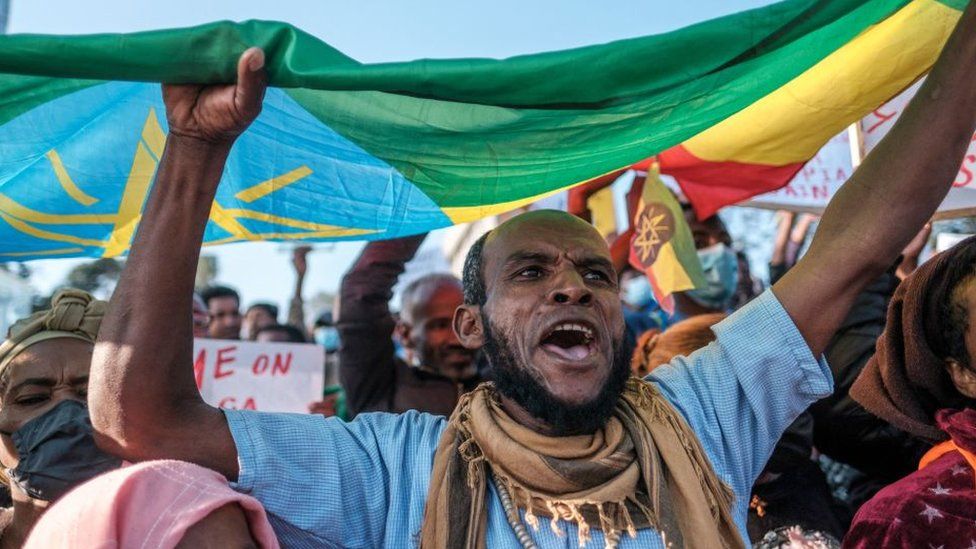 Ethiopia has also purchased Chinese and Iranian weapons, and flights taking off from the United Arab Emirates are being used to transport them, the defence website Oryx reports.
From a US perspective, Ethiopia has long been seen as a reliable ally, especially during the so-called War on Terror.
It has fought against Islamist militants in Somalia on the frontline of that conflict and offered the US use of its airspace during the Iraq war. It was one of a few African countries to join the US' "coalition of the willing".
Stable government in Ethiopia has been vital to that relationship. The US has backed it up financially, handing over $4.2bn (£3.1bn) in aid between 2016 and 2020.
But the US envoy to the region, Jeffrey Feltman, has not shied away from criticising the federal government saying that its policies have resulted in mass starvation, and compared it to the Syrian regime of Bashar al-Assad.
Is the capital under threat?
After a series of advances by fighters for the Tigray People's Liberation Front (TPLF) along a main highway leading from the north into Addis Ababa, the tension cranked up.
The US issued the evacuation call to its citizens and Ethiopian Prime Minister Abiy Ahmed announced a state of emergency and asked for more military recruits.
The Addis Ababa authorities called on people to register weapons.
Another rebel group allied to the TPLF said they were also getting closer to the capital.
The multi-ethnic nature of the city has added to tensions there, with some accusing the authorities of targeting Tigrayans in a series of arrests.
But the Tigrayan forces are still more than 300km from the city – around the town of Kombolcha.